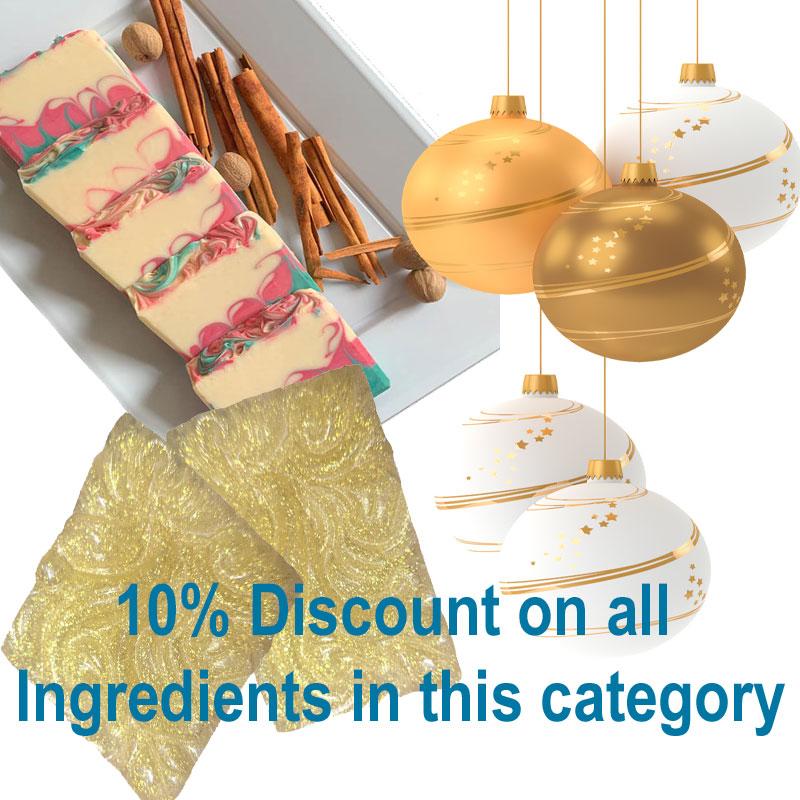 The countdown to Christmas has begun! It's that time of year when we all start preparing our sparkly Christmassy makes, it is a time where you can really get creative with all festive decorations. This year we are doing things a little differently and just like our new Halloween themed category, we thought let's do one for Christmas too!
We know a lot of you will have already started making for Christmas, that's great! I wish I were as organized as you, However, for those that aren't quite as organized we have made it a little easier to get prepared by placing all our Christmas themed products into one place for you just like we have for Halloween, and as times are hard at the moment for everybody we have also decided to add to every product in this category a 10% discount up until 15th October 2022 as after all every little really does help, especially at this time of year.
We have a wide range of products including Eco sparks glitters, mica powders, wonder colours, fragrance oils, essential oils, Christmas moulds and many more. Follow the link below to see more.
We love seeing all our wonderful customers designs and creations each year, so please do share with us on our Facebook support group all your Christmas bomb bombs, soaps & shampoo bars. After all we are going to need our annual Christmas banner for the group soon and your images could be on there.
I don't know about you, but this time of year is my favorite! Cold winter nights snuggled up in front of the fire with hot chocolates and cozy evenings sat next to my shimmering Christmas tree, its so exciting! But it can also be a very busy time especially for those with children. Therefore, we have now worked out our Christmas calendar and I will add dates of closing times and re-opening times below so that you are sure not to miss out on any orders you may need before the madness begins.
This year our last working day will be Thursday 22nd December however, all orders placed after the 15th December will not be dispatched until the 3rd January 2023. Please all do get your orders in before the 15th to ensure you receive what you need before the festive period. As you will be aware processing times for orders being dispatched are usually up to 3 days (we usually have a much faster processing time) however, as it will be the first week back after Christmas it may be busier than usual and our dispatch time may vary but as always, we will try our very hardest to have all orders sent out to you in the fastest time possible.
We wish you all a Merry Christmas and a Happy New Year.
From all of us at The Crafters Shop x