"What's a 'Shower Foamer'?" you may be asking. It's a new kind of body skin cleanser designed for single use in a shower. They fizz and foam creating a luxurious lather, smelling amazing and simply dissolving into the water and rinses away leaving your skin keeling soft and your bathroom smelling incredible. They're a kind of bath bomb that you use in the shower which is great for those of us who don't often have baths (in a weird kind of way they stress me out, I think of all the things I could I be doing while in the bath so it kind of negates any supposed relaxation effects)!
They're not to be confused with shower steamers – Shower Steamers are used more for aromatherapy whilst in the shower, they are not designed for skin contact and are not covered by cosmetic safety assessment requirements in the same way. Shower Foamers are designed to be used in direct contact with your skin to act as a cleanser.
What's in a Shower Foamer?
The main Ingredients are similar to a bath bomb:
Sodium Bicarbonate,
Citric Acid
Fragrance oil,
mica,
a nourishing oil
a little water,
(there are a few other ingredients but you don't get to know those until you buy the assessment!); however they are totally different product and should be marketed and sold to your customers as a separate experience. The difference is in the other ingredients which create a different texture to a bath bomb when you're making it and then they harden when they dry making them easy to package and send out.
Shower Foamers have an almost moldable, 'chewy' texture when all the ingredients are blended and mixed correctly allowing them to be moulded more easily. Our Crafters Shop specific recipe means that unlike bath bombs, humidity isn't an issue when you're making these exceptional Shower Foamers. Yet when they dry (in 24 hours), they harden making them ideal for 'plastic free' packaging and exceptionally easy to use for your customers as the foam starts to activate. You could say they're a little like solid shower foam without the need for fancy, expensive packaging!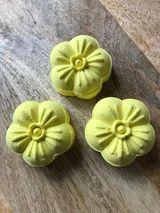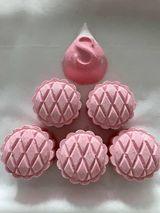 Your customers will love these new products as they create a whole new shower experience. Many people have opted for a bathroom that only has a large shower cubicle or more of a 'wet room' spa type design indicating that showers for some of your customers are preferred by them. The single use nature of the Shower Foamers means your customers can try each of the wide variety of scents without feeling the need to commit to a single scent choice when they purchase. For example, a bar of soap or a bottle of shower gel lasts a long time so your customer will want to make sure they love the scent, with Shower Foamers they can try the whole range!
What Shower Foamers mean for you and your business.
The benefits to you as a maker and a small business owner is that you can get at least 25 Shower Foamers from each 1kg batch of ingredients as the maximum weight of each product is 40g. You could make them a little smaller if 40g seemed too big for one shower!
Due to the specific qualities of some of the ingredients, humidity isn't an issue when making Shower Foamers which some makers have found to be a benefit – they certainly create fewer stressful moments for some than bath bombs!
Also, consider the situation where you've had a run of really successful sales events and your website is busy in the run up to Christmas so you need more stock and you need it ready the next day. Shower Foamers dry in 24 hours making them a great stock product for your range especially at this time of year.
As you can tell, we're really excited about this new Shower Foamer assessment. We at The Crafters Shop take a lot of time and put a lot of our effort and experience into developing new assessments and if they're not 100% perfect, we don't make them available to you. We want to support you as our customers in building your businesses and aim to provide the tools, techniques, ideas, ingredients to allow you to develop your creative cosmetic enterprise.
Key facts about the Shower Foamer Assessment
If you're not already clicking over to buy the assessment here are the key facts about The Crafters Shop Shower Foamer Cosmetic Safety Assessment:
Single use product
Easy to mix – mouldable
Humidity isn't a concern when making
Dry within 24 hours making them perfect when you're running low on stock for Christmas events!
Approx 25 unit per KG batch
Easy to use ingredients
Wide range of scents and colours available
Fragrances:

Cherry Jam
Lemon Candy
Strawberry Melon
Green Apple & Cucumber
Dragon Fruit Guava & Papaya
Rhubarb Raspberry
Blueberry Lemon
Pomegranate & Blackcurrant
Luscious Lime
Dragon Fruit
Candyfloss
Cool Water
Pearl White
Sherbet Lemon
Purple Berries.
With all these stunning scents and colour options you'll have a great range of Shower Foamers in no time, really adding value to your range and offering your customer exciting new products.
Additional points:
Due to the fact Shower Foamers harden when they dry they can be sold in plastic free packaging which is a bonus for many businesses and customers who are opting to reduce their use of plastic.
The Shower Foamer mixture, when you're blending it, is extremely malleable meaning it can be moulded easily into all sorts of shapes. This gives you a great range of opportunities in terms of your creativity in product development.
Here are some more images of what can be produced with The Crafters Shop Shower Foamer recipe: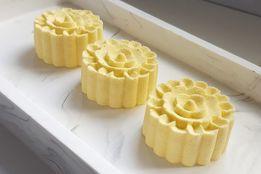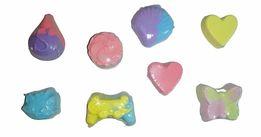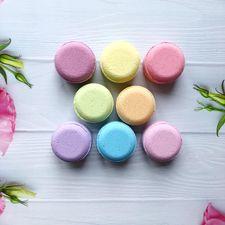 Image contributors:
Natalie Hamer - Bodica bath and body
Caz Best - Holme Cottage
Michelle Young - Shabbyheart Skincare
Rachael Rebecca Scott - Etty Bubble